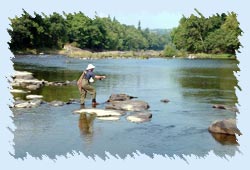 In Shimla, fishing is a very popular recreational sport. Since Shimla has many shallow streams scattered all over, it provides ample of opportunities for many to try the angling sport in Simla. In fact, Shimla is often known as "Angler's Paradise" as it is one of those very few places that allows tourists to indulge in fishing in India. There are many popular spots for indulging in fishing in Shimla. Read on further to know about these hotspots.
Shimla is known for its treasure of the world's best sport fish. The streams and shallow waters make this place the perfect location for fishing. One can indulge in fishing in the upstreams of Rohru situated in the Pabbar valley. There is a trout hatchery in Chirgaon where one can go fishing for trouts. The best sport fish in the world, Rainbow and Brown trouts are found here aplenty. Other good spots for fishing are Tikri, Sandsu, Dhamvari, Seema and Mandil. All these spots are within 20 kilometers of Rohru.
The Sangla Valley in Shimla is also well known for flourishing in trout population. One can go for fishing in Baspa River in Sangla. The Uhl River near Barot is also a popular point to go fishing. Places located near this spot that are popular fishing spots are Puran hatchery, Luhandi and Tikkar. So get set with your fishing gear and flaunt your prized catch to everyone!