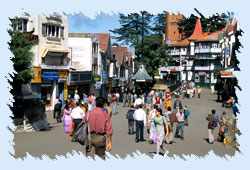 One place that you cannot ignore is definitely the Mall Road in Shimla. Located at the heart of the town, the Mall Road in Simla is one of the busiest commercial areas of this place. Built by the British during the colonial rule in India, the Mall Road was constructed keeping in mind the traffic on this route. Entry of vehicles was banned though cycle rickshaws were allowed. It has been built in a very strategic and planned way.
The Mall is situated in the main street of Shimla. All colonial structures are located on the Mall Road. The Mall Road also has all major hotels, restaurants and recreation centers of Shimla. The Mall road is full of shops that sell woolen clothes, branded clothes, handicraft items, pottery items, jewellery, books, etc. The Mall Road is also famous for its wooden furniture shops that sell exquisite wooden articles, which look like antiques.
The Mall Road has many famous restaurants that specialize in not just local cuisines but also delicacies from nearby places. Since there are no vehicles allowed in the Mall, you don't quite have to worry about watching out for the traffic. While purchasing locally made goods, make sure you do some bargaining. Ideally, you should make sure that you bargain till at 30% of the amount quoted by the shopkeepers. The whole area is fun to loiter around in and you wont even know when time flies by.