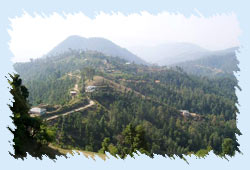 The Chail hill station is located at an altitude of 2250 meters and is one of the smallest hill stations of Shimla. The Chail hill station of Shimla has an interesting story behind it. It is said that when the Maharaja of Patiala, Bhupinder Singh was expelled from his kingdom, he was determined to create his own summer capital. He came to Chail and was mesmerized by the beauty of this place. That is when he decided to make the Chail hill station of Shimla his summer capital. To experience the bliss and divinity of this place, you must visit Chail hill resort near Shimla and have an experience of a lifetime.
The Chail hill station is located at a high altitude and is covered with thick deodar trees, which give the hill station the look of a wonderland. The Chail resort is a place that shall bowl you over completely. You will be surprised to see the beautiful amalgamation of beauty and comfort over here. The resorts have elaborate log huts with modern amenities, perfectly manicured lawns, traditional cottages and everything else that goes in to make a perfect holiday.
The major attractions near Chail are a Children's park, facilities for fishing and trekking and the famous Chail wildlife sanctuary. You shall find information about Chail wildlife sanctuary in our related sections. Chail is also famous for the world's highest cricket ground that is located at a height of 2444 meters above sea level. This cricket ground is also a polo ground and was made in the year 1893 after an entire hilltop was leveled. So come to Chail hill station and experience the magic!