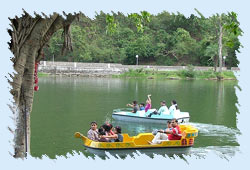 Renuka Lake is located in the Sirmour District of Himachal Pradesh and is a popular tourist attraction. This beautiful lake is located at an altitude of 672 meters and lies in the Sirmaur district. Renuka Lake can be easily reached from Shimla by road. The Renuka Lake has a circumference of 3214 meters. The Renuka Lake has an interesting story behind it. Read on further to know more about the same.
The shape of Renuka Lake is like a reclining woman. It is said that this lake is supposed to personify Goddess Renuka, the mother of the famous Parashuram sage. There is another small lake just at the base of the Renuka Lake that is dedicated to Parashuram. It is said that Parashuram wanted to be at the feet of his mother forever. Another famous legend is that a demon named Sahasarjuna killed the sage Jamadagini and tried to seize his wife Renuka. In order to save herself she jumped into this Lake. The Gods later brought her back to life. This lake is supposed to personify her.
There are two temples built near the lake. The temple that is dedicated to Goddess Renuka is said to have been built overnight in the 18th Century. The Lake is nestled cozily amidst lush green hills and steep valleys. The place is also famous for a wildlife sanctuary that is visited by most tourists who come to this place. There is also a mini zoo at a distance of 2 kilometers from this lake. The place is famous for the Renuka fair that is held for three days during November. The fair is very colorful and many people throng this fair to participate in it and enjoy.