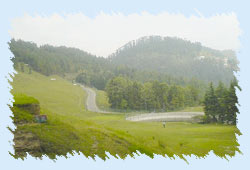 Nestled between the beautiful lofty ranges of the Himalayas, lies the Naldehra hill station. The Naldehra hill resort near Shimla is no less than a picture perfect destination. The blue skies, lush green forests and an occasional rainbow thrown in makes the place look like it has been painted on a canvas. The most famous attraction of Naldehra hill station is the 18 - hole golf course that is considered to be the most challenging golf course. This is because it is situated at an altitude of 2044 meters! The golf course is one of the most gorgeous stretches of land in Naldehra.
Naldehra remained unnoticed till the beginning of this century when the then British viceroy, Lord Curzon, discovered it. He was totally mesmerized by the natural beauty of the place. While exploring the beautiful hill station, he came up with the idea of making a golf course here. The landscape of the place was just perfect to make a golf course. An entire hilltop was leveled to make way for the golf course to come up!
The Naldehra hill resort is the perfect place to unwind and relax amidst beautiful surroundings. The resorts have complete privacy and literally every window has a different view! There could be nothing better than waking up every morning and watch the sunrise from behind the hills. You could have a wonderful time just walking down the meandering roads amidst thick deodar trees and the light mist that covers the trees. Come to Naldehra to feel true magic and you shall never forget the experience for the rest of your lives.