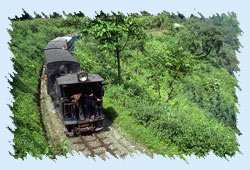 Shimla is located in the north of India in the lap of the mighty Himalayas. Though it is surrounded by lofty mountain ranges, the place is well connected to the rest of the country by all means of transport. In this section that has been titled "how to reach Shimla", you shall find information regarding all queries about reaching Shimla and getting to Simla. You will get all required information over here and traveling to Shimla will seem like a cakewalk.
By Air
Shimla can be easily reached by air. The place has its own airport at a place called Jubbarhatti, which is located at a distance of 23 kilometers from the main city center. Flights from New Delhi,
Chandigarh
and Kullu (another hill station) operate on a daily basis. Jagson Airlines is the flight that operates from these places on a regular basis.
By Rail/ Train
The nearest railway station that connects Shimla to neighboring states is at Kalka. This place is located at a distance of 96 kilometers from Shimla. From Kalka, it takes around 6 hours to reach Shimla. The frequency of trains that ply from Kalka to Shimla is pretty good, with atleast 4 trains plying to and fro from Shimla. The journey from Delhi to Kalka is an overnight journey and reaches Kalka early morning. There are many tunnels en route with the longest being 1.2 kilometers long!
By Road
Shimla is well connected to neighboring places like New Delhi and Chandigarh through national highways. The journey from Delhi to Shimla by road takes approximately 8 hours. The highways are well maintained by the authorities and are a pleasure to drive on. There are many tourist buses that ply from neighboring places to take tourists to this beautiful hill station.