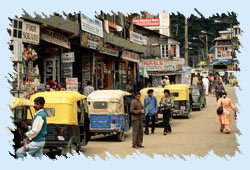 For moving around in Shimla, the best way would be by hiring Shimla local transportation. Local transport in Shimla is available all round the clock. There are a lot of options for moving around in Shimla that would suit your pocket. The options of means of public transport in Shimla are pretty good and economically viable. So read on further to know more about the various means of local transport in Shimla.
Buses
There are a number of buses that ply from Shimla to nearby places and one can easily get on these buses to roam around at nearby places. You will find private tour operators as well as state Government buses plying for the benefit of tourists. These buses range from luxury to semi luxury to normal deluxe buses. They charge a reasonable amount for taking you around and also suggest viable options for eating out.
Taxis
In Shimla, you can hire taxis and private cabs for getting to places. It is comfortable, easily available and economically viable. You will find taxis and cabs all through the day and can hire them from anywhere in the city. The cab drivers charge a reasonable amount and also act as tourist guides at times!
Autos
You won't find too many autos in Shimla. In higher altitudes, autos are not quite helpful. So for moving around in Shimla, you will either have to take a bus, a taxi, a jeep or take a walk.