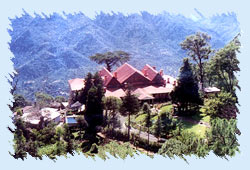 The Kasauli hill station is situated at an altitude of 1927 meters above sea level and is a small hill station that still retains its colonial ambience of the 19th century. You can find a hint of the colonial influence in each and every little thing in this place. The cobbled paths, old-fashioned shops, the gabbled homes and classic porticos - all remind you of the bygone era of the colonial rule. You are sure to have an amazing time at the Kasauli hill resort near Shimla as it has got everything that shall make your vacation a perfect one.
Kasauli is filled dense thickets of Himalayan oak, pine trees and chestnut trees. The narrow zigzag roads that wind up the hill are a delight to take long walks on. The place is blessed with breath taking scenery and soothing views. This place can be easily reached from Shimla by road and the journey is one that you shall never forget. The lush green hills filled with light mist that greet you on your way to Kasauli are no less than paradise.
Kasauli is famous for the Pastur Institute, which prepares vaccines for protection from rabies and dog bites. The institute is also famous for treating victims of hydrophobia. This institute is the oldest institute set up in India and is famous till date. It was set up just at the start of the 20th century. Kasauli is also famous for the Monkey point, where it is believed that monkey God Hanuman set his foot while getting the Sanjeevani herb for Lakshmana. The place is shaped in the form of a big footprint. You can also visit the Christ Church, which was built by the British and still its old world charm.