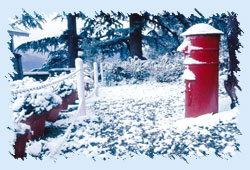 The climatic conditions of Simla are pleasant throughout the year. It is because of the favorable weather and climate of Shimla that tourists throng this hill station in any season. Though there is less of rush in monsoons, the rest of the year sees a steady inflow of tourists. In Shimla, weather and climate is prone to sudden changes as the high altitude results in sudden drop and rise in temperature. Read on further to know about Shimla weather in more detail.
Summer
Shimla has warm summers and the temperature never goes beyond 27o Celsius. The duration of summers in Shimla is from April to June. During this time, Shimla is overcrowded and packed with tourists, as temperature in the plains gets too high. The days are warm and the nights tend to get cooler. Thus, one is required to carry some light warm clothes for the nights. The variations in the diurnal range of temperature are starkly evident to anyone visiting the place. There is occasional rainfall during summers, though not too heavy.
Monsoons
Then come the monsoons that last from July to September. During monsoons, it is advisable not to visit Shimla, as the place is not too hospitable during rains. Monsoons are pretty heavy in Shimla. Being a hill station, there are too many instances of landslides occurring here. The temperature during monsoons drops considerably and ranges from 15o - 25o Celsius.
Winters
The temperature starts to drop here on and the monsoons cease to make way for winters. The cold and chilly winds from the higher ranges of the Himalayas lash the place and the temperatures can drop to sub-zero levels. The winters last from November to mid- February. The main attraction of winters is the snowfall that Shimla receives around the time of Christmas in December. Though transportation and accommodation is a bit of a problem during winters, yet tourists throng the place during December and January.