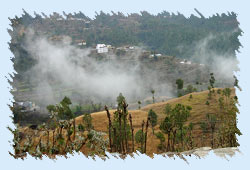 Breathtaking views, stunning locales and tranquil surroundings - this is what Kufri hill station is all about. Popularly known as Switzerland of the East, the spell binding beauty of Kufri hill station of Shimla will definitely enchant you. Check out the Kufri hill resort near Shimla and make sure you stay here for some time to experience pure bliss. It is located at a distance of 19 kilometers from Shimla and can be reached very easily from Shimla. The best way to reach Kufri is by road as it is located near the National Highway - 22.
The best thing about Kufri is the skiing and hiking that should be absolutely tried once, if you are visiting. The snow-clad hills of Kufri provide the ideal locale for trying your hand at skiing. In winters, Kufri is literally filled with tourists who come here to seek adventure and get some excitement in their lives. For the weak hearted, there is always an option of trekking and hiking on the steep hill slopes. The best season to indulge in these sports is during winters, i.e. from November to February. If you are not into skiing and other adventurous pursuits, you can visit the hill station during the months of April to June. The weather is pleasant and cool and just perfect for enjoying your much-awaited vacation!
Kufri remained unexplored and hidden from the rest of the world for a long time. It was not until the time the British explored this area that Kufri came into the knowledge of people. As and when Shimla gained importance, Kufri was also identified as an important tourist place near Shimla. Shimla was an important place as the British declared it the summer capital of India till year 1939. Kufri, which was once a part of the Nepal Kingdom, was recognized as a part of Shimla after India gained independence. So visit this magical place and experience the fun and frolic yourself!