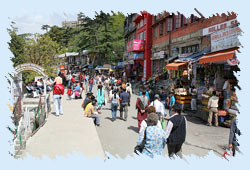 Located on the lower ranges of the Himalayas, Shimla is a hill station that experiences extreme climatic conditions. It is situated at a height of around 2213 meters above sea level. This altitude gives Shimla its diverse climatic conditions. There is no such ideal time to visit Simla, as this pleasant hill station is one of the most preferred destinations in India at any given time. One can say that the peak season for Shimla travel is all though the year! Read on further and decide the best time to visit Shimla for yourself.
Though Shimla has pleasant climate throughout the year, it experiences cold winters. The temperatures can drop to sub-zero conditions during the peak winter season. The best time to visit Shimla would be October to November and from March to May. It is advisable not to visit Shimla during monsoons as the place has a history of having landslides every now and then. The roads can get very slippery and it is not a good idea to roam around at this time.
You can also visit Shimla during winter months. The hill station witnesses heavy snowfall and tourists throng Shimla in December during Christmas and New Year. Winters are also an ideal time to visit Shimla if you love adventure sports like skiing and ice-skating. Though moving around is a bit difficult when it snows, just playing in the snow will lift up your spirits and make sure you have a wonderful vacation.