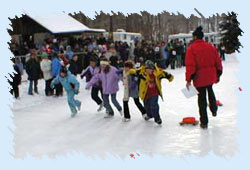 Shimla is India's favorite winter destination and what makes it truly special is the snowfall that it receives during the winters. Most tourists visit Shimla during the months of December, January and February to indulge in the lively ice sports like skiing, ice-skating or simple throwing snowballs! Shimla comes alive during the ice skating carnival that is held every year during winters. Shimla has the biggest open-air, natural ice rink in India. The ice-skating Club of Shimla organizes the ice skating carnival in Simla every year in January.
The club has already celebrated its Diamond jubilee and is thronged by tourists every year. The carnival is fun and lively and the various colors against the white backdrop of the snow make Shimla look like a wonderland. The ice skating sessions usually take place twice in a day, in the morning and evening. He sessions are usually uninterrupted since the skies are usually clear and temperatures are pretty low to keep the ice intact.
Skates are available at the rink itself and a nominal rent is charged for the same. The ice skating club organizes fairs and celebrates this carnival with much joy and fervor. The club organizes fancy dress competitions for the amusement of children. Other activities include ice hockey matches and colorful dances. The Municipal building right next to the Scandal point near the ice skating rink hangs a balloon to indicate whether skating is to be held that day or not.