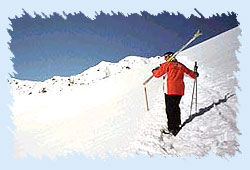 Shimla is known for its snow-capped peaks and smooth slopes. This is what makes it the ideal location for indulging in skiing in Shimla. The lofty ranges of Himalayas are the perfect place (after Swiss Alps!) to try out the skiing sport of Simla. There are many places in Shimla that offers skiing and tourists flock these places in winters to try out this exhilarating adventure sport. So when you visit Shimla, skiing should be on the top of your things-to-do list! Read on for further information.
Kufri
Known as the winter sport capital of Shimla, Kufri is located very close to Shimla. At a distance of 13 kilometers from Shimla and an altitude that reaches 2622 meters, Kufri is a skier's paradise. The skiing season lasts from January to March and many people flock at Kufri for trying out skiing. Otherwise a quiet little town, Kufri comes alive in its entire splendor once it starts to snow. This place attracts ski enthusiasts from all over the world during winters.
Mashobra
This place is located at a distance of 13 kilometers from Shimla and is a popular location for skiing. This place attracts many tourists and is covered in snow from December to March thus making it the ideal place to indulge in skiing and other winter adventure sports.
Narkanda
One of the oldest ski resorts of India, Narkanda is located at a distance of 60 kilometers from Shimla. It is less crowded and the slopes are virtually unexplored which is what makes Narkanda a haven for ardent skiers. This beautiful ski resort is located at a height of 8100 feet. The place is also famous for producing some of the most delicious apples and cherries.