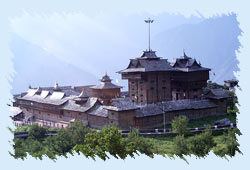 The state of Himachal Pradesh was popularly known as "Devabhoomi" or the land of Gods and for the right reasons. The place has more than thousand temples scattered here and there. The imposing yet tranquil Himalayas look as though they are the natural abode of Gods. There are many important religious places in Shimla also. A trip to these places of worship in Simla will truly show you a glimpse of the spiritual faith prevalent in India.
Though Hinduism dominates most of the place, one finds a beautiful amalgamation of different religions and places of worship in Shimla. You will find not just temples, but churches and Buddhist monasteries as well. The temples and other religious places are built in the traditional style and look as though they are untouched by time. Each place of worship has an interesting story behind it. Every religious place attracts thousands of worshippers and devotees.
We have given information about some of these important religious places of Shimla. When you visit Shimla, make sure that you make a trip to all these places of worship. They are the symbols of undying faith and belief in the contemporary world. So read about these places of worship in our related sections.
Bhimakali Temple
The famous Bhimakali Temple in Shimla is a very popular tourist attraction. Also known as Bheemakali Temple of Simla, this architectural wonder is one of the representatives of 51 Shakti Peeths. The unique thing about this temple is that the style of architecture used to build it is a unique amalgamation of both Hinduism and Buddhism. It is built of wood and is no less than an architectural masterpiece.
Jakhu Temple
At the top of the famous Jakhu hill is located the famous Jakhu Temple of Shimla. It is hardly 2 kilometers from the Ridge and is an uphill climb through the beautiful deodar trees. The Jakhu Temple of Simla is dedicated to the monkey God, Hanuman. The Jakhu temple is located at a height of 2455 meters and is situated on the highest peak in Shimla.
Kalibari Temple Shimla
The famous Kalibari Temple of Shimla is a popular tourist attraction and is situated at a very strategic location. The temple was built in the year 1845 and is dedicated to Goddess Kali who is also known as Shyamala. It is from the name of Goddess Shyamala that Shimla derives its name.
Christ Church & St. Michael's Cathedral
The famous Christ church & St. Michael's Cathedral of Shimla is a beautiful architectural masterpiece. The construction of this church took a span of 11 years (1846 - 1857) and is considered to be the second oldest church in North India. This splendid church is located just near the Ridge in Shimla and can be reached very easily from anywhere.
Sankat Mochan Temple
One of the most popular tourist attractions of Shimla, the Sankat Mochan Temple is located among lush green and tranquil locales in this beautiful hill station. Shri Sankat Mochan temple in Simla is located on the Kalka - Shimla highway, on the National Highway - 22. The temple is a place where one can actually meditate and enjoy the calm and peaceful surroundings.
Tara Devi Temple Shimla
Tara Devi Temple, located in Shimla is a very famous tourist attraction of this place. Situated at a distance of around 11 kilometers from Shimla, this famous temple can be visited while traveling on the Kalka - Shimla National Highway. The Tara Devi Temple is situated at the top of a hill in Simla and the lush green environs surrounding it give the temple a very peaceful and tranquil atmosphere.