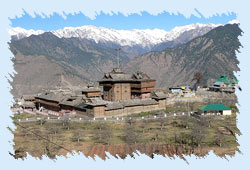 The beautiful Sarahan city is located on the Shimla - Kinnaur border. It is situated at an altitude of 2165 meters. One of the most beautiful places to visit in India, Sarahan valley near Simla is the work of a perfectionist. The right amount of beauty mixed with serenity and tranquility, Sarahan looks like time spared this part of Shimla. The undulating valleys and snowy peaks that surround Sarahan are exquisitely beautiful. Sarahan has something to offer to everyone and you are sure to fall in love with the place when you come visiting.
The place is well-known for its ancient Bhimakali temple and it also serves as a base for numerous treks. The best season for going on treks is April to June and September to November. If you are looking for pure unadulterated fun and soak yourself in the beauty of nature, come to Sarahan and experience true bliss. The place is famous for its apple and peach orchards that are spread over miles of area. The small huts with thatched roofs give this valley the look of an untouched paradise. In short, the place is picture perfect.
The valley is filled with beautiful blooms of flowering plants and dense pine trees. The Himalayas provide the perfect backdrop of snow clad lofty ranges surrounding the small beautiful valley in between. You are recommended to carry light woolens though weather remains pleasant during summers. However, the evenings may get chilly at times and it is best to carry a light jacket with yourself.