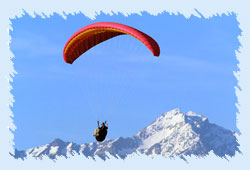 Though this sport has recently been introduced in Shimla, paragliding is fast catching up and emerging as one of the most sought after adventure sports in India. The undulating hills of Shimla provide the ideal location to try this sport. Para gliding is one sport that will set your adrenalin levels rushing and give you the exhilarating experience of a lifetime. Read on further to know more about paragliding sport in Shimla.
This exhilarating adventure sport is a skillful combination of parachuting and hang gliding. Some people think it its entirely parachuting, which is not correct. It is easily launched in lighter winds and needs less space to land. Most of the skills are learnt in air and a trainer during the practice session is hardly necessary. It is easier to rig and de-rig and the material used in the chute is of a very light weight.
In Shimla, Kangra valley is considered to be the hub of all gliding activities. To enjoy both paragliding and hang gliding, head on to Bir and Billing in the Kangra valley. These two locations are supposed to be the hot spots of gliding in Shimla. Since 1984, the Billing peak has hosted three international and five national hang gliding and paragliding rallies. So rush to Kangra and get set to soar like a bird and fly gracefully in the high skies.