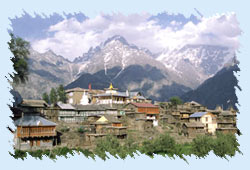 The beautiful Narkanda hill station is situated at an altitude of around 2700 meters and offers a stunning view of the lofty ranges of Himalayas. Narkanda hill station is at a distance of 60 kilometers from Shimla. It is an ideal getaway for people who seek to relax in an undisturbed and tranquil location, far away from the bustling city life. The place is famous for its apple and peach plantations. The dense forests are always successful in attracting tourists who enjoy each and every moment walking in the dense thickets of the slopes. The Narkanda hill resort near Simla should be visited in case you are visiting Shimla.
The best time to visit Narkanda is during the winters. You are recommended to carry a good stock of woolen clothes as it can get really cold high up in the hills. Narkanda has its own ski resort and is a hit among tourists who come to visit this place. The ski resort was started in the year 1980 and has grown by leaps and bounds. Today, it is one of the most well known ski resorts in India.
There are many places near Narkanda that are worth the visit. Situated at a height of 2000 feet above Shimla is the Hattu peak. It can be reached in an hour by trekking. You can also visit the Hattu Mata temple that is located over here. The Hattu peak is famous for its skiing activities and hiking and is teaming with adventure seekers during winters when it snows, making the place look like a white wonderland.