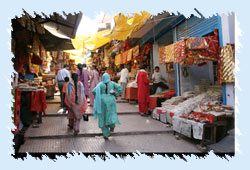 Your trip to Shimla would remain incomplete if you do not indulge in some guilty shopping! There are many shopping places in Shimla that will take care of your demands and taste. A judicious shopper would definitely find Shimla shopping an enjoyable experience. You wouldn't be stuck with the question of what to buy in Shimla, as the place has a huge variety of things to offer tourists. The place is well known for its handicrafts and other handmade artifacts. Read on further to know where to shop in Shimla.
One of the most popular places to go to for shopping is at the Mall road in Shimla. This place is the shopping hub and commercial center of Shimla. One can find small souvenirs and knick-knacks here along with handicrafts and other artifacts that Shimla is famous for. You can buy the famous Himachali caps that are available in almost any shop. These caps come in various colors and designs and also have intricate designs embroidered on them. You can buy a variety of these caps, as they are very affordable and absolutely comfortable.
Yet another item that tops a shopper's list in Shimla are the woolen shawls that are available very easily in every shop in Shimla. These shawls come in different shapes and sizes and the variety of colors is huge. The shawls come in different kinds of wool also. One can find mirror work, thread work, sequins and embroidery decorating these shawls. Apart from shawls, you can always pick up colorful gloves, sweaters and socks, which are not found anywhere else in India and are exclusive of Shimla.
Another popular shopping place is the Lower Bazaar, which is also known as the Subzi Mandi. This place is absolutely chaotic yet full of life. There are endless mazes of narrow lanes merging into one another and just when you think there is a dead end ahead, you find another lane full of shops selling just about anything you can think of! Local craftsmen make beautiful walking sticks by carving wood in different designs and shapes. You could one of those and use it while you walk along the woods. This is available in Lakkar Bazaar (lakkad means wood), which is quite famous for wooden souvenirs.