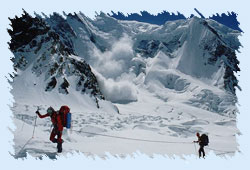 Mountaineering is a very popular adventure sport and mountaineering in Shimla has its own charm and magic. Many tourists and adventure seekers come here to try the mountain climbing sport of Simla. The lofty ranges of the Himalayas provide the ideal locale for indulging in mountaineering. Read on further to know more about the adventure sport of mountaineering.
There are certain precautions that should be kept in mind while embarking on mountaineering. Most accidents occur because of lack of safety equipments and precautionary measures. One has to be a very keen observer to look out for nooks and crannies to fix your grip on the face of the rocks. The only thing you can fall back on is the safety rope. In fact the Himalayan ranges in Shimla are called "Mountaineer's Paradise".
The diverse flora and fauna of Shimla is an additional boost for those who want to try their hand at mountaineering. The lush green landscapes, the tall pine trees, the snow blanketing the peaks, the fresh mountain air all make Himalayas an irresistible treat to mountaineers. Many devoted mountaineers and rock climbers do not leave even one opportunity to indulge in this exhilarating sport and come rushing to embark on yet another exciting expedition above the peaks.
To encourage mountaineering as a sport among the youth, Shimla has established an institution known as Institute of Mountaineering and Allied Sports at Manali. It also has a branch in Dharamshala. The courses that are provided here aim at initiating young people into the field of mountaineering. The institute has had its share of famous students who have conquered almost all ranges of the Himalayas.