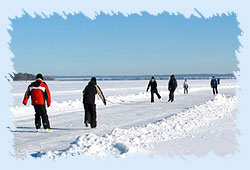 Your visit to Shimla shall become even more enjoyable if you try your hand at ice-skating. The ice skating sport of Simla is one of the most sought after adventure sport in Shimla. Shimla has the largest ice skating rink in India. It is also the only natural ice skating rink of India. This largest open-air rink attracts many tourists and locals who enjoy ice-skating. Ice skating in Shimla is bound to make your trip fun with a hint of adventure.
The ice skating season usually begins in the start of December and goes on till the end of February. The cold weather and clear skies make sure that people have undisturbed sessions of ice-skating. The sessions take place every day, twice a day in morning and evening. The rink also provides membership on short and long term basis. Basic equipments like skates, cap, kneepads etc. are available at the rink.
Every winter, there is an ice skating festival that attracts a large number of tourists and locals. The place comes alive with festivities, feasts, carnivals and colorful fancy dress competitions for children. It is the time to enjoy the cold weather and indulge in not just sports but also sinful hogging! So if you ever happen to visit Shimla in December, get set to see Shimla alive in the most vibrant colors.