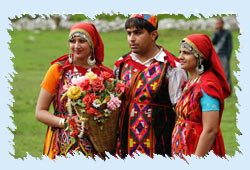 The people of Shimla are among the warmest and friendliest people of India. They believe in simple living and are content with whatever they have got in life. The lifestyle of Simla people is very down to earth and uncomplicated. They look for happiness in small things rather than search for materialistic pleasures. They are known to be very hospitable and make their guests feel at home.
The people of Shimla are a mix of various tribes and races. There is no particular caste or creed to which they belong. The people of Shimla are proud of their traditions and are fiercely protective about it. Though the place is modern and commercialized, the people have not changed and you can still see them following their traditions and rituals with much devotion and dedication. The natives of Shimla have been influenced by the Tibetan lifestyle, which is evident in the way they live and dress up.
The main economic activity and source of livelihood of the people of Shimla is agriculture. You will find most of the people working in fields or growing apple trees. Other sources of livelihood include animal husbandry, government services and handicrafts like weaving. The houses are built in an Indo-Tibetan style with slanted roofs and slates.