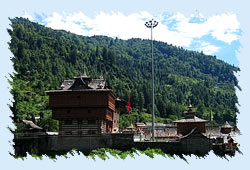 The famous Bhimakali Temple in Shimla is a very popular tourist attraction. Also known as Bheemakali Temple of Simla, this architectural wonder is one of the representatives of 51 Shakti Peeths. The unique thing about this temple is that the style of architecture used to build it is a unique amalgamation of both Hinduism and Buddhism. It is built of wood and is no less than an architectural masterpiece. Located near the temple are the palaces of the royal families of Shimla.
The temple has an interesting story behind it. It is said that long ago, there were many demons in the Himalayas who were proving to be a major distraction when the priests and saints used to meditate. They all prayed to the Gods above to send a powerful force to wipe the demons off. Hearing their pleas, the Gods decided to concentrate their powers on one point. A huge explosion took place and one could see a small girl child on that spot. This girl child grew up to be the force who destroyed all demons and was supposed to take repeated births to destroy any evil force on the face of the earth. The temple is dedicated to this great female power who was called Bhimakali.
The temple also has interesting tit-bits that are truly intriguing. In the year 1905, a powerful earthquake struck this place and the temple tilted to one side. However, it reclined back to its original shape after another tremor jolted the place! People say that there is a secret tunnel inside the temple that was used to reach a nearby village by the priests. In the year 1927, another temple was built right next to the existing temple, which houses a 200-year-old idol of Goddess Bhimakali.