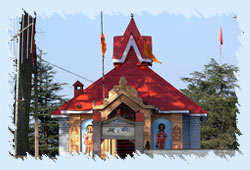 At the top of the famous Jakhu hill is located the famous Jakhu Temple of Shimla. It is hardly 2 kilometers from the Ridge and is an uphill climb through the beautiful deodar trees. The Jakhu Temple of Simla is dedicated to the monkey God, Hanuman. The Jakhu temple is located at a height of 2455 meters and is situated on the highest peak in Shimla. The scenic view that surrounds this beautiful temple of India is absolutely breath taking and splendid.
The temple has an interesting legend behind it. It is said that a deadly arrow injured Lord Rama's brother Lakshmana when he was fighting the battle with the demon king Ravana. A priest diagnosed Lakshmana and said that he needed a particular Sanjeevani herb from the Himalayas to cure Lakshmana. Hanuman was sent to get that herb from he lofty mountains. Upon reaching the Himalayas, Hanuman couldn't make out as to which herb was the Sanjeevani. So he dug up the entire mountain and flew back to where Lakshmana was lying injured.
After Lakshmana was cured, Hanuman went back to place the mountain in its original site. He rested on top of the Jakhu hill for sometime. It is said that the top of the hill got flattened due to Hanuman's weight! The temple has been built around the place that is supposed to have the footprints of Hanuman. It is a highly revered religious place of Shimla and devotees throng in huge numbers to pray. The shrine is a hotspot for monkeys who flock here in great numbers and generously accept eatables that are given to them by devotees and tourists.