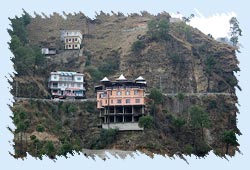 One of the most popular tourist attractions of Shimla, the Sankat Mochan Temple is located among lush green and tranquil locales in this beautiful hill station. Shri Sankat Mochan temple in Simla is located on the Kalka - Shimla highway, on the National Highway - 22. The temple is a place where one can actually meditate and enjoy the calm and peaceful surroundings. Lush green trees surround Sankat Mochan Temple and the backdrop consists of the imposing and lofty Himalayan ranges and a light mist adds the mystical touch to that place. Let us take a look at the temple's history.
Not very long ago, around 1950's, Baba Neeb Karori Ji Maharaj came to this beautiful place and discovered the perfect spot for meditation and soulful introspection. After staying here for 10 days, he desired that a temple dedicated to Lord Hanuman should be built here. Baba's faithful devotees included the governor of Himachal Pradesh, who along with Bhagvan Sahai took up the task of building the temple and fulfilling their Guru's wish.
Finally, on the 21st of June 1966, the temple was sanctified and thus was fulfilled Baba Neeb Karori Ji Maharaj's desire of having a temple built over here that was dedicated to Lord Hanuman. It was a small temple back then, but now, due to the huge inflow of devotees, the temple has grown by leaps and bounds and today sprawls on huge area. The temple is dedicated mainly to Lord Hanuman, though one finds idols of Lord Rama, Shiva and Ganesha in separate complexes. There is a specially made temple for Baba Neeb Karori Ji Maharaj also. The temple dedicated to Lord Ganesha has been built in the South Indian style of architecture and is worth the visit.
The temple has many facilities for people and also includes a three-storey building that is used for many purposes. Every Sunday, the huge hall in the building is used for distributing Prasad, also known as Langar. One portion of the building is used to conduct marriage ceremonies and is rented out to people who want to conduct marriages. The temple charges a very nominal fee for this. Apart from marriages, there are many other sacred rituals and ceremonies that can be conducted over here. Priests and the maintainance staff, who work here day and night, use the rest of the building as a residential complex. The temple also has an Ayurvedic clinic and thirty well maintained toilets.